My name is Jazlyn Gramer, but you can call me Jazz if you want. I am currently a junior at the University of Minnesota studying Child Psychology and Design. I'm originally from Moorhead, Minnesota, and I grew up in a Catholic family with my dad, mom, older brother, and younger sister. You could probably consider me a classic middle child in some ways, seeing that I'm often stubborn and definitely the odd one in the family.
Coming into college I went to Mass with my brother, but providentially, after he was no longer on campus and unable to go with me, I ran into SPO… or more like SPO ran into me: the first Mass of fall semester sophomore year, I was alone and fully intended to book it out of the church before I got caught in the crowds of people. Right before I got to the door a girl named Ashley stopped me and asked me to be in an SPO small group; and the rest is history.
One of the greatest things that SPO brought into my life was small groups. It gave me a group of girls who were trustworthy, great examples, and reliable. I clung to those girls and still do, because they keep me sane when surrounded by college culture.
Related: Saint Paul's Outreach Celebrates 30 Years of College Ministry
Stepping Back to See the Bigger Picture
Before being invited to the Minnesota Benefit Banquet, I just assumed SPO was this really well-organized group that happened to connect with college students. I might've also thought it was just lucky that they had so many great people gathered in one place. After getting the opportunity to experience the Minnesota Benefit Banquet, however, I received a much greater outlook on the big picture. SPO is so well thought out, intentional, and loving in how it brings college students closer to Christ. It was jaw dropping to see how many people - almost 650! - came together to make this great group functional and impactful. By attending the banquet, a lot of things were put into perspective on how fortunate I am to be connected to so many life changing people.
Upon my arrival to the banquet, I was a little overwhelmed. Who are all of these people? Everyone looks so nice. I didn't know where to begin. My first instinct was to go help my fellow friends tend to the coat check. However I had to remember I was a guest. What do student guests do?? I'm used to eating chicken nuggets in the shape of dinosaurs for dinner and now I'm invited to be a guest at a fancy banquet: a banquet where my job is to accept great food and socialize with the individuals who make SPO possible. It definitely took a little while to soak in.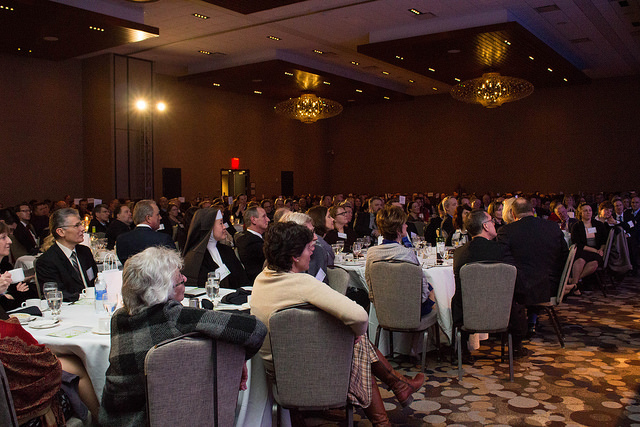 Coming Together to Impact the Individual
One of the greatest experiences of that night was admiring students and sponsors coming together. I got to watch students interact with the people who changed their college experience and, more importantly, their relationship with Christ forever. It's odd to think of it this way, because this is the first time they're meeting, but without these sponsors they would have endured a very different experience in college. I imagine it has to be even more inspiring for the sponsors to get to see firsthand what their efforts went towards. A lot of people invest in things that affect others in general. For example, companies sponsor the building of stadiums where thousands of people will come to spend time together. However, it hit me that the people standing in front of me actually invested in me. They didn't invest in a thing, they intentionally chose to impact an individual. To say the least I was moved, but that doesn't even begin to explain what it is like to feel so much love for people you barely know.
SPO has changed my life in so many ways already; I can't fathom what more it could bring! It's both exciting and scary to think about the future. If I had to say what I'm excited about with my future involving SPO, it would probably be discovering more of my potential of fulfilling God's plans for my life, whether that be in a career or simply in relationships with others. I've actually thought a lot lately about how I could even begin to give back to SPO after everything it has given me. With that, I'm excited to consider being a Missionary.
Thank You
I want to say thank you to anyone and everyone who donates to SPO. It might not seem sincere since we haven't met in person or you're reading this through a screen, but I am truly thankful to you. If SPO weren't here, my life would look a lot different. Between lifelong friendships, a strong confidence in my future serving others as a Catholic, and most importantly my relationship with Christ, SPO has impacted my life in so many ways. I can't thank you enough.
God bless, Jazlyn Gramer
Not Able to Attend?
Here's some of what was shared during the 2016 Benefit Banquet celebrating 30 years of SPO ministry in Minnesota: